My current project: EBook cover art!
I'm trying to force myself to jump into the world of ebooks. Why? Because it seems like the most obvious route to get published in this day and age. I'm not looking to make a fortune, or even a living (that's why I married the Marine, because we all know that the military makes the big bucks and I can sit back and be a kept woman/trophy wife.), but it would be nice to know that someone out there has read something I've written. I'm sitting atop four finished novels right now. I am not sure how good they are by anyone else's standards, but I enjoy reading them, and I have to think someone else might too.
The thing is there is a lot I don't know about this process. For one thing, I don't actually read ebooks. My husband does, almost exclusively since he got his Kindle a few years ago, but I don't own an ereader of any sort, and sitting in front of a computer screen to read isn't something I care to do for long periods of time.
However, I really want to get this done. I'm investigating Amazon Direct. It seems straightforward and low risk. I have most of the formatting done, so right now I'm just struggling with the cover art. Above is my best effort so far, if I choose not to go with a stock image (they have some available, but none to my liking).
I am going to ask around to see if anyone I know happens to have an interest in some sort of visual art and would work with me to create something a little more polished. Wish me luck!
Check out the finished project
here
!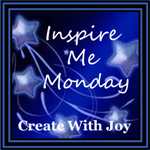 also shared on:
The Clever Chick Link-Up
Craft-o-Maniac Monday