The Claire Bear Hair incident.
This is Coryn and Claire a few weeks ago. Note the lovely, just below the shoulder hair on Claire (the little one).
And then this happened. Coryn originally denied any knowledge of the Claire Bear Hair incident, but after we round the missing hair under her bed, she caved. She has been forbidden the use of scissors for the foreseeable future.
So I had to even it up.
Such a waste!
I still get a little sad when I look at her new "bob" cut, but she's still pretty dang cute.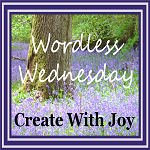 Linked at JennyEvolution